Cheltenham Racecourse names Kier for £45m development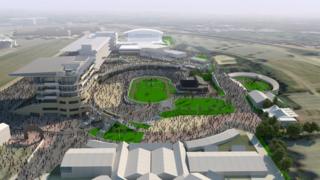 The Jockey Club has named construction firm Kier as the main contractor for its £45m grandstand development at Cheltenham Racecourse.
The new 6,500-capacity grandstand, as well as the royal box, should be ready in time for the 2016 festival.
Work will begin at Prestbury Park immediately after this month's 2014 National Hunt Festival.
The Jockey Club says all funding is already in place for its largest-ever single investment project.
Nearly £25m was raised through the Jockey Club Racecourse Bond - the first retail bond in UK sport.
The remaining sum has been secured through a combination of bank financing via the Jockey Club's syndicate banks - HSBC, AIB and RBS, a Levy Board capital fund loan, commercial deals, and from the Jockey Club's general cashflow.
Kier's appointment comes after a tender process involving several construction firms.
The new state-of-the-art grandstand replaces the current "A&R" block, which was built in the 1920s.
The current royal box, which was built in 1952, and 55 other boxes, which were built in the 1920s and 1930s, will be demolished.
New members' facilities, improved bar facilities, more toilets, and better viewing of the course and the parade ring have been promised.
The plans have been approved by Cheltenham Borough Council.