Global stocks rally as Ukraine fears lift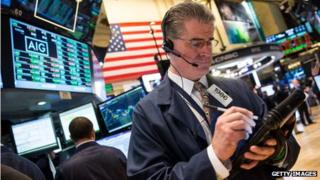 Global stock markets continued to rally as tensions in Ukraine eased.
Asian markets climbed higher on Wednesday, with the Nikkei index closing up by 1.2%.
Earlier, US markets ended Tuesday with large gains and the S&P 500 closed at a new record high.
The global rise came after Russian President Vladimir Putin said the situation in Crimea did not require military action.
Mr Putin also ordered troops participating in military exercises near the border of Ukraine back to their bases.
European markets also closed higher on the news, with the FTSE 100 index up 1.6% and the CAC-40 in France rising 2.3% to 4,389.
"Markets are making hay," said Kathleen Brooks, market analyst at Forex.com.
"Stocks are rallying and clawing back yesterday's losses as the situation stabilises, making it less likely that a conflict will arise in the near term, at least.''
Not done yet
However, tensions still remain. Russia also threatened to abandon the US dollar as the country's reserve currency on Tuesday.
And Russia's top gas producer Gazprom also said it would remove a discount on Ukraine gas prices from April.
However, Alexei Miller, chief executive of the Russian state gas producer, has said Gazprom could lend Ukraine between $2bn (£1.2bn) and $3bn to pay off the country's debt.
The offer comes after Ukraine told Gazprom it would be unable to pay in full for gas deliveries in February, according to Russian news agency Interfax.
But the European Union later said it would help Ukraine pay the $2bn it owes Gazprom.
"Payment of the outstanding Ukraine bills is high up in the European Commission's aid package," EU Energy Commissioner Guenther Oettinger said.
Mr Oettinger said the EU could even supply the country with gas.
EU officials are expected to reveal the details of the Ukraine aid package on Wednesday ahead of an EU leaders' emergency summit on Thursday.
Brussels has offered Ukraine 610m euros (£502m) so far, and reports suggest the 28-member bloc could free up an additional 500m euros.
Meanwhile, US Secretary of State John Kerry has announced a $1bn package of energy subsidies, and told crowds in Kiev that President Barack Obama "is planning more assistance".
No more US dollars
Ukraine's interim government has already said that it needs $35bn to pay its bills over the next two years, and has asked the International Monetary Fund (IMF) for rescue funds.
The IMF is currently in Ukraine and will remain there for 10 days, to assess the economy and begin negotiations over a potential bailout.
"We are ready to respond," IMF managing director Christine Lagarde said last week.
She said the body was also discussing with its international partners how best to help Ukraine "at this critical moment in its history".
US President Barack Obama has said Washington is considering economic sanctions to "isolate Russia".
But on Tuesday Russian President Vladimir Putin said those considering sanctions should think of the damage they may incur.
The Russian MICEX share index rose 5.3%, while the rouble rose 1.2% to 36.09 against the dollar.