Chevron wins US ruling on $9.5bn Ecuador payout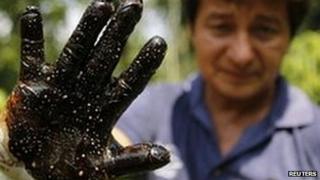 Oil giant Chevron has won a US court ruling against a $9.5bn (£5.7bn) payout to residents of Ecuador's Amazon region.
Ecuadorian courts ordered Chevron to pay damages to residents of the Lago Agrio region in 2011 and 2013.
They accused Texaco, now owned by Chevron, of dumping toxic waste and spilling oil over an 18-year period.
But a US judge said that ruling was "obtained by corrupt means", and US courts could not be used to enforce it.
"The decision in the Lago Agrio case was obtained by corrupt means," said US District Judge Lewis Kaplan. "The defendants here may not be allowed to benefit that in any way."
The ruling appears to support Chevron's claim that the Ecuadorian judgement was obtained through bribery.
Legal tussle
The ruling is the latest twist in the a decades-long legal battle between Texaco - which Chevron bought in 2001 - and the people of the Lago Agrio region of Ecuador.
The residents claim the oil company knowingly dumped 18 billion gallons (68 billion litres) of toxic waste water and spilled 17 million gallons of crude oil into the rainforest.
The affected area covers 4,400 sq km (1,700 sq miles) along the border with Colombia.
A court in Ecuador found the firm guilty in 2011 and ordered it to pay $19bn in damages, although this was reduced to $9.5bn in a second ruling in 2013.
Reacting to the US court decision, Steven Donziger, legal adviser to the Lago Agrio residents, called it "appalling" and "deeply flawed", adding that it "ignores the overwhelming evidence that Chevron committed environmental crimes and fraud in Ecuador".
"Nothing in Judge Kaplan's ruling will prevent my clients from pursuing the judgment's enforcement in other countries," he added. "The villagers deserve justice."
The residents have been looking to enforce the ruling in other countries as well, including Argentina, Canada and Brazil.
In December, an Ontario appeals court ruled they can seek the enforcement of the judgement in Canadian courts.
Chevron has argued that Texaco spent $40m cleaning up the area during the 1990s, and signed an agreement with Ecuador in 1998 absolving it of any further responsibility.