RWE posts first annual net loss for over 60 years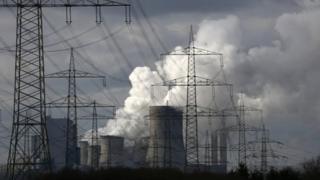 Germany's biggest energy company, RWE, has posted its first annual net loss in more than 60 years.
The electricity and gas firm was hit by an expansion in solar and wind capacity that undercut the profitability of its power plants in Europe.
RWE made a net loss of 2.76bn euros (£2.28bn) in 2013, compared with a profit of 1.31bn euros in the previous year.
The company, which owns Npower in the UK, last posted a net loss in 1949.
It said it expects the next few years to be lean.
"Our power plants will earn even less in the coming years than we had feared," said chief executive Peter Terium.
"We had to take this into account in our consolidated financial statements."
In 2013 RWE had to write down almost 5bn euros, mainly on its power plants, due to an expansion in subsidised solar and wind energy.
The company has been mothballing unprofitable gas plants, and will stop using several coal-fired units, losing over 5,000 megawatts of capacity in total.
The group may decide to close or mothball other facilities in 2014, depending on whether it can return plants to profitability, Mr Terium said.