Paddy Power profits hit by exceptional sport results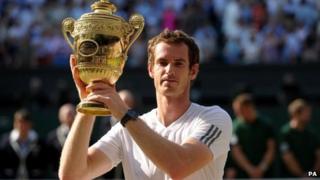 Irish bookmaker Paddy Power has seen its 2013 profits affected by an "exceptional run of punter-friendly sports results".
But pre-tax profits still rose to a record 141m euros (£116m) last year, from 139.2m euros in 2012.
Sporting results, including Andy Murray's win at Wimbledon and Phil Mickelson's victory at the British Open, negatively affected profits.
Online profits rose, while UK and Irish retail and telephone profits dropped.
Online drove the business in 2013, with total profits of 107m euros, up from 103.5m euros the previous year.
Earnings in 2013 were hit by a 10m-euro headwind from new product fees and taxes, currency depreciation, and the company's first full year of investment in Italy.