Qantas: Australia looks to change ownership rule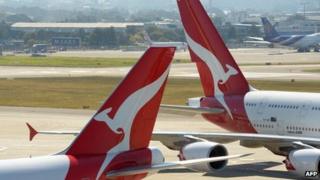 The Australian government has said it will look to repeal rules that restrict foreign investment in the struggling airline Qantas.
Current rules limit the total foreign holding in Qantas to 49%, with foreign airlines allowed to own just 35%.
Qantas has claimed the rules have hurt its growth.
It says the rules create an uneven playing field, with rival Virgin benefitting from increased foreign investment in recent years.
"I have enormous faith in the ability of Qantas to compete and to flourish, but I think it is best placed to compete and to flourish if it is unshackled - and un-propped up by government, I hasten to add," Prime Minister Tony Abbott said.
'Best option'
The ownership rules were incorporated in the Qantas Sale Act ahead of the airline's privatisation in the 1990s.
Qantas has been lobbying for a change in the rules as it continues to struggle amid increased competition and financial losses.
But government plans to introduce the necessary legislation are likely to face stiff opposition.
Both the Labour and Green parties have said they are against removing the foreign ownership restrictions.
They have cited concerns that such a move may see jobs at the airline lost to foreign countries.
"Tonight Tony Abbott has created a new export industry: Australian jobs," opposition leader Bill Shorten was quoted as saying by the Australian Broadcast Corporation (ABC).
However, Australian Treasurer Joe Hockey said that repealing the ownership rules was the "best option" available.
"Removing the shackles on Qantas and allowing it to compete on a level playing field is the best guarantee for the workers [and] it is the best guarantee for the sustainability of Qantas as both a domestic and an international airline," he told ABC.
Financial assistance?
The move by the government comes just days after Qantas reported an underlying pre-tax loss of A$252m ($225m; £135m) for the six months to the end of December.
The airline also announced plans to cut 5,000 jobs in an attempt to turn around its fortunes.
The carrier is planning to to reduce costs by A$2bn over the next three years.
The airline's troubles have seen its credit rating cut to junk status by two ratings agencies in recent months.
Qantas said that it needs "immediate action to address the imbalance that has been allowed to persist for almost two years".
"If this proposal by the government to change the Qantas Sale Act is not passed, we would expect the government and the parliament to consider alternative measures to balance the unlevel playing field in Australian aviation," the airline said in a statement.
However, Mr Abbott made it clear that the government was not looking to offer a debt guarantee or line of credit to the struggling airline.
"We certainly don't believe in any normal circumstances that government should be playing favourites between competing private businesses," he said.