Thorntons sees profits surge thanks to strong Christmas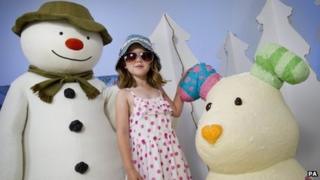 Thorntons has reported a 47% surge in profits, thanks to strong trading in the run-up to Christmas and its decision to more via supermarkets and wholesalers than its own stores.
The chocolate maker said pre-tax profit for the 28 weeks to 11 January was £7.2m, with sales up 4.5% to £139.7m.
Thorntons has cut its store numbers to 280 and plans to cut further, to 180.
Chief executive Jonathan Hart said he was "encouraged" by the progress it had made on "rebalancing the business".
The firm said the re-launch of its Classics toffee and Nostalgia fudge range had gone well, while sales of its new Snowman-licensed range were better than expected.
In its retail division, total sales fell 4%, mainly because of store closures.
It closed 15 stores over the period and plans to close 40 in total this year.
Thorntons said it expected profitability to continue to improve as it reduced the proportion of sales made via its stand-alone retail shops.