South Korea nominates Lee Ju-yeol as Bank of Korea head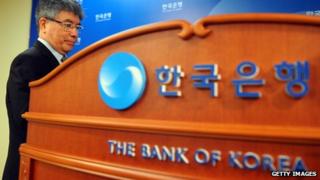 South Korea's President, Park Geun-hye, has nominated former bank deputy Lee Ju-yeol to succeed Kim Choong-soo as governor of the Bank of Korea on 1 April.
Mr Lee, 61, is a veteran official who will have the job of leading Asia's fourth-largest economy.
South Korea's parliament will hold a hearing on his nomination in the coming days.
However, parliament does not have the power to veto Mr Lee's appointment.
Mr Lee first joined the central bank in 1977 and most recently served as Mr Kim's deputy at the central bank until retiring in 2012.
He is widely seen as an advocate for ensuring that the bank's rate decisions remain independent from government policies.
By law, the central bank must remain independent. However, some observers say that its independence has been compromised in recent years.