Budget 2014: CBI calls for more help for growing firms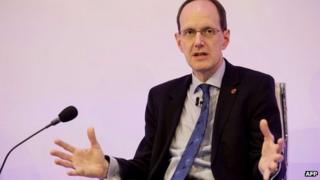 The business lobby group, the CBI, has called on the Chancellor George Osborne to support growing small and medium-sized firms in this year's Budget.
The CBI said the government needed to help firms to access finance by boosting alternative sources and encouraging more competition in the banking industry.
It also called for help for firms struggling with high energy costs.
Mr Osborne will deliver the Budget speech on 19 March.
The CBI's director general John Cridland said: "We need to nurture the UK's vibrant alternative finance market and encourage even more competition in banking so that businesses can get growth capital."
Tax incentives
Mr Cridland argued that equity financing - where a company raises money by selling a stake in its business - could play an important role in helping UK businesses.
The practice is more commonly used in other parts of the European Union.
The CBI wants an incentive to be introduced so that investors are encouraged to hold a stake for more than five years. It suggests a relief on capital gains tax.
"Many smaller firms say they would be more likely to use equity finance if the investment was longer-term, which is why we want a tax incentive to encourage this," Mr Cridland said.
Other measures called for include freezing air passenger duty, and making sure that planned regulation of crowd-funding and peer-to-peer lending is proportionate.
The CBI also repeated its call for the chancellor to freeze the carbon price floor, a tax on using fossil fuels to generate electricity, which it says makes the cost much higher in the UK compared with the rest of the EU.