Negative equity afflicts 'half a million households'
By Brian Milligan
Personal Finance Reporter, BBC News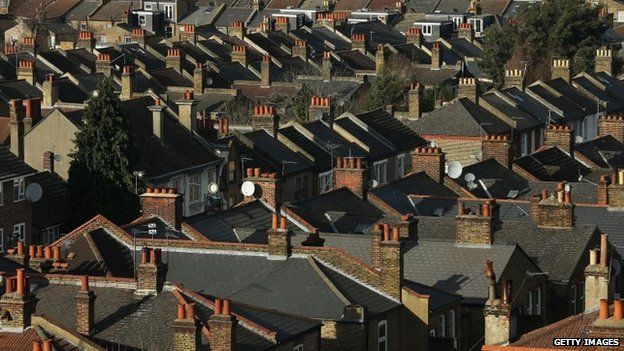 Nearly half a million UK households are still in negative equity - meaning their homes are worth less than the mortgages on them, figures show.
There is wide regional variation, with 41% of borrowers in Northern Ireland - 68,000 homeowners - in negative equity at the end of 2013, the figures from mortgage group HML show,
In north-east England and Cumbria the figure is 16%.
But in London, where house prices have surged, only 1% are in negative equity.
That is actually worse than six months previously, when the figure was 14%, presumably tracking a further decline in house prices in the region.
Not far behind that is Scotland, where 13% of borrowers are in difficulties.
The figures are based on data from more than one million home loans.
By contrast, only 1% of borrowers in London find themselves in negative equity, following the surge in the capital's property prices.
Overall just 8% of mortgage holders are now in that position, amounting to 463,000 homeowners, a big improvement on five years ago.
Negative equity occurs when the price of a property falls so dramatically that it is no longer worth as much as the loan that was taken out on it.
That becomes an issue for the bank or the building society, because they no longer have enough security to cover the loan.
And it becomes a real headache for an owner, because he or she cannot usually sell up without paying back the difference. Often that amounts to tens of thousands of pounds.
Shafiq Caan, for example, bought his house in West Yorkshire near the peak of the market in 2008.
He paid £115,000, with the help of a £95,000 mortgage.
But now that the house is only worth £75,000, he cannot sell it. Unless he pays back the difference of £20,000 to his lender.
So, like thousands of others, he decided to rent the property out.
But since his lender has increased his repayments, the rent he receives does not cover the mortgage.
"I am paying £250 a month extra, which is barely affordable," he told the BBC.
"There's a lot of stress involved," he added.
Renting a home out is often the only option for those who find themselves trapped by negative equity.
One lettings agent based on Tyneside has experienced something of a boom in the business, as homeowners become accidental landlords.
He estimates that up to 25% of landlords in the area are in that position, having been unable to sell their homes.
Many have been affected by divorce, and planned to sell their home when the value went back up.
"Unfortunately they are still waiting some six years on," says Ajay Jagota, whose KIS agency is based in South Shields.
"If you're in negative equity, I do feel sorry, because it may be a decision that's out of your control," he says.
Property values in north-east England have fallen by 6% since the summer, according to the Land Registry.
And there are many other areas of the country, on Merseyside or in Scotland for example, where prices have remained depressed.
Hometrack reports that homes in 80% of the UK's post code districts are still worth less than at the peak of the market in 2007.
"Negative equity is only a problem if you need to move," says Kate Faulkner, of Propertychecklists.co.uk.
But if you do need to move, some lenders will consider "porting" your mortgage to another property.
The Nationwide, for example, says it will do its best to help.
However, "eligible customers must be in permanent employment, and be able to afford any additional borrowing", it told the BBC.
But Kate Faulkner advises people not to be put off.
"It may well be that they will allow you to take the mortgage with you, and take that loan that you owe to the next property. So it's not disastrous if that happens. The trick is to talk to your lender as early as possible."
The housing charity Shelter also has advice for anyone thinking of selling a home which suffers from negative equity.
Renting your home out is not always an easy option either.
There are more than a hundred rules the property must conform to, and landlords will need electrical checks and gas safety certificates that can cost a few thousand pounds.
All of which will come as little cheer to those, especially in Northern Ireland and the north of England, who are still stuck in negative equity.
They are being told it could take another five years before their properties reach the value they paid for them.
Related Internet Links
The BBC is not responsible for the content of external sites.