Qantas meets unions over 5,000 job cuts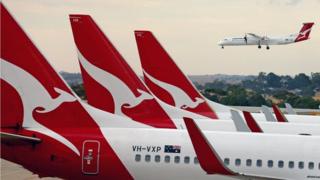 Qantas is meeting unions anxious about 5,000 planned job cuts, as rival Virgin posts a half-year loss citing tough conditions across the airline industry.
Australia's national carrier Qantas announced the redundancies as part of a A$2bn ($1.8bn; £1bn) cost-cutting drive following its own losses.
The cuts will affect employees from various divisions and voluntary redundancies will also be on offer.
But unions complain of a lack of clarity on the details of the job cuts.
"There's still a lot of uncertainty and a real lack of clarity about where at least 2,000 of those jobs will be cut from," said Nathan Safe, president of the Australian and International Pilots Association to the Australian media.
Mr Safe added he will be seeking more information from the airline in the coming days.
Matt Rocks from the Transport Workers Union of Australia told the BBC: "What we need to see is a turnaround strategy for the airline, and then perhaps we'll see an improvement in Qantas' fortune."
Domestic rivalry
Qantas has been lobbying for government support, as its main competition in Australia, Virgin Australia, is owned by three national carriers - Singapore Airlines, Etihad and Air New Zealand.
Qantas has argued that Virgin has access to extra funding from these partners, creating an uneven playing field in its home market.
Virgin Australia has reported a net loss of A$83.7m for the six months to December 2013, which is a reversal from the A$23m in profit it earned for the same period a year earlier.
Virgin's chief executive John Borghetti said the loss reflects tough conditions across the entire industry.
He also blamed Australia's carbon tax, which cost the airline A$27m during the last 6 months of 2013.