Help-to-buy scheme gathers pace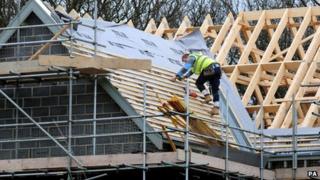 The government's help-to-buy "equity loan" scheme picked up towards the end of last year.
Figures from the Department for Communities and Local Government (DCLG) show that completed house sales in England under the scheme jumped from 2,133 in November to 3,410 in December.
That brought the total to 14,823 since the loans were first offered last April.
Most of the loans, 89%, have gone to first-time buyers.
Although help-to-buy has been cited as an important factor in the recent revival of UK house sales, so far it has helped finance only a small minority of the deals that have gone through.
Between April 2013 and January this year, there have been 957,000 properties sold in the UK, according to HM Revenue & Customs.
Under the scheme, the government lends a buyer up to 20% of the purchase price of a newly built home, so long as the buyer puts down at least 5% themselves. The rest is paid for via traditional mortgage.
The home must not be worth more than £600,000.
The money is interest free for the first five years and has to be repaid when the property is sold, in the same proportion of the selling price as the original loan, so if prices rise then the government may make a substantial profit on its original loan.
Boosting builders profits
The DCLG figures dispel fears in some quarters that the scheme might be hijacked by wealthier buyers:
most loans have been made on properties in the North East and North West of England, Yorkshire and the Midlands.
more than half the properties bought were worth between £150,00 and £250,000.
only 5% were worth £350,000 or more.
the average purchase price was £203,000.
the average loan was £40,000, or 19.9%.
58% of the homes were terraced or semi-detached houses.
67% of borrowers had household incomes between £20,000 and £50,000.
only 3% had household incomes greater than £100,000.
Despite the relatively small scale of the scheme's impact so far, several house building firms have pointed to help-to-buy as one of the main factors which have helped their businesses expand again in the past year.
Barratt Developments said it had created 3,000 new jobs in the past year after it increased the production of new homes to meet demand.
And Redrow said private reservations since January were up 24% on last year.
Earlier this week both Persimmon and Taylor Wimpey pointed to the scheme's influence on the past year's revival in their sales and profits.