Builders Barratt and Redrow profits more than double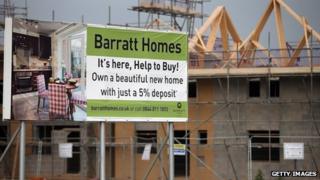 Profits at the house builders Barratt Developments and Redrow have more than doubled, fuelled by rising house prices.
Barratt reported a 162% rise in pretax profits for the six months to the end of December to £120.4m.
Redrow first half profits rose 107% to 47.5m as it announced its first interim dividend in six years of 1p per share.
Earlier this month, Nationwide's house price index showed prices rose 8.8% in January from a year earlier.
The average private selling price of a Barratt home rose 6% from £201,800 to £213,900 last year.
The company almost doubled the amount of land it bought for future development, adding over 18,500 new plots to its landbank.
Barratt has said it will pay out around a third of earnings in dividends over the three years to 2016. Its shares were up 3.5% in morning trade in London. Redrow shares were down 1%.
Barratt Chief Executive Mark Clare said: "Underpinning this strong performance is an improved market and a business model that is delivering homes that people want to buy in places they want to live."
He said Barratt would increase its recruitment programme, hiring 1,100 new apprentices, graduates and trainees.
Help to Buy
The results follow similar rises in profits for the country's other big house builders this week.
Persimmon, the second biggest after Barratt on Monday reported profits up 49% to £330m. Taylor Wimpey and Bovis had similar gains.
Taylor Wimpey offered shareholders a special dividend £250m to shareholders.
Much of the rise in demand has been attributed to the government's Help to Buy scheme which supports buyers purchasing homes with as little as 5% deposit.
Taylor Wimpey called it "the most significant programme to date...having a quick and direct impact on the affordability of mortgages".