Sales of Ant & Dec and Poirot help boost ITV profits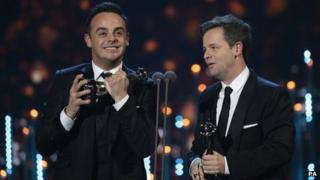 ITV profits have surged thanks to the success of programmes like Ant & Dec's Saturday Night Takeaway.
ITV's latest figures show profit before tax for the whole year rose 27% to £581m, as income at its studio production arm rose by one fifth.
The group promised shareholders a special dividend for the second year in a row.
ITV Chief Executive Adam Crozier said: "Onscreen we've had our best year on year performance for ten years."
But shares fell more than 2% on fears they are now overvalued. The shares have gained 73% in the last year.
Over the last four years the group has increased profits by more than 10% each year.
Mr Selfridge, Poirot and Hell's Kitchen US have been sold to more than 150 countries.
Eight of its formats have been sold in three or more countries, including I'm a Celebrity Get Me Out Of Here! and Dancing on Ice.
Teen Wolf Acquisition
Last week ITV bought a controlling stake in DiGa Vision, the New York based independent producer of reality and scripted programmes including Teen Wolf.
Over the last year it has bought up production companies behind programmes such as 24 Hours In A&E and the Graham Norton Show, which it sells around the world.
Mr Crozier said: "The investment we have made in content has driven significant revenue and profit growth in ITV Studios ... both organically and through the selective acquisitions we have made in the UK and the US."
He said growth in the coming year would be increasingly from Online, Pay & Interactive and from ITV Studios internationally.
He said: "In ITV Studios we anticipate good growth, primarily driven by the acquisitions we have made in the UK and internationally.
"In Broadcast we have started the year with the announcement of two new channels - ITV Encore and ITVBe -­‐ and we expect to see double digit growth from Online, Pay & Interactive."