Ranbaxy suspends shipments from two Indian plants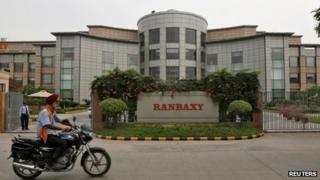 Drugs manufacturer Ranbaxy has suspended shipments of ingredients from two of its plants to probe their testing processes.
The move at the firm's Toansa and Dewas plants, in India, follows a US ban on shipments from the two facilities.
The US Food and Drug Administration (FDA) said they fell short of its "good manufacturing practices".
Ranbaxy said it had temporarily halted shipments to examine manufacturing "processes and controls".
The ban has already hit Ranbaxy's biggest market, but it's thought the suspension will also hit supplies to Europe and India.
String of bans
It follows a string of bans on imports of Ranbaxy drugs imposed by US regulators, covering four of its facilities.
An inspection of its Toansa plant led to an FDA ban in January.
Inspectors found products that had failed analytical tests being retested to produce acceptable findings.
The drugs which had failed testing were not reported or investigated by the company, the FDA said.
That ban followed others at two plants in 2008, including Dewas, and another in September 2013.
Shares hit
The plants under scrutiny produce ingredients for drugs used in oncology, dermatology, and gastrointestinal and cardiovascular medicine.
Ranbaxy, a member of the Daiichi Sankyo Group, now cannot export drugs to the US until it changes its manufacturing processes.
Company shares fell 2.7% in early trading on Tuesday, but later recovered, and rose nearly 1%.
The company's stock has fallen 20 percent since mid-September.