Justin King: On life after Sainsbury's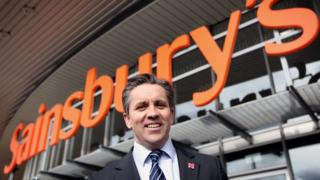 Justin King, the outgoing boss of Sainsbury's, has dropped his biggest hint yet about what he will, and won't, do next.
After months of speculation about his future, he told BBC Radio 5 live he would not work for a competitor of Sainsbury's.
However, he said that he would be looking for "a big job".
Asked about rumours of a move to motor racing, he said that "there's not a vacancy there".
Mr King was responding to speculation that he would be searching for a role within Formula 1 motor racing - potentially as a successor to the sport's long-standing supremo, Bernie Ecclestone.
"My expertise is in consumer goods - I've worked at Mars, Haagen-Dazs and Pepsi, so there are lots of sectors where I can work," he said.
Mr King has been the chief executive of Sainsbury's for a decade, during which the supermarket has grown almost constantly.
He is to stand down in July, saying that he did not want to stay "too long".
Competitive market
Mr King has already been linked with a number of other retailers, but confirmed that he "won't be working for a competitor", saying that Sainsbury's had been "a big part of his life".
At the age of 52, he maintains he is "young enough to have another big job in me".
Mr King said that job "could be in the FTSE 100, it could be private, or it could be international".
When he does go, Mr King is likely to reflect on a retail market that has rarely been more competitive.
He told the BBC that the "reality for 30 million people who stayed in work during the downturn is that their incomes are more squeezed.
"And it's very likely that that will remain in place for the next year or two."