European Commission sees recovery 'gaining ground'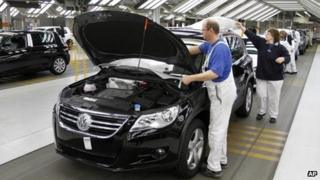 The European Commission has said economic recovery is "gaining ground" in the EU as it revised up its growth forecasts for 2014 and 2015.
The Commission said the 18-nation eurozone would grow by 1.2% this year and 1.8% next year.
In both cases, the figure was 0.1 percentage points higher than in earlier predictions.
The UK's economy is now expected to grow by 2.5% this year, up from a previous forecast of 2.2%.
However, the Commission left its UK growth forecast for 2015 unchanged at 2.4%.
The wider 28-nation EU's prospects have been revised up by 0.1 percentage points, to 1.5% in 2014 and 2% in 2015.
The last time the Commission issued its forecasts was in November last year.
"Recovery is gaining ground," said Olli Rehn, commissioner for economic and monetary affairs. "The worst of the crisis may now be behind us."
However, he also warned that the recovery was "still modest".
"To make the recovery stronger and create more jobs, we need to stay the course of economic reform," he added.
The Commission's forecasts highlight the disparity between the performances of different countries within the EU.
It now expects the Netherlands to grow 1% this year, up from its last forecast of just 0.2%.
However, it downgraded its forecasts for Cyprus and Slovenia.
The Commission's upgrades follow a similar upward revision by the International Monetary Fund.