UK house sales set to keep on rising, banks say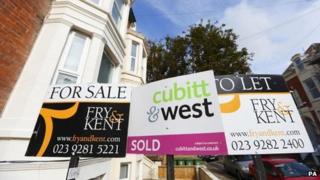 The UK's property market is likely to keep on growing strongly, mortgage lending figures suggest.
The British Bankers' Association (BBA) said total mortgage lending by its members was 38% higher in January than a year ago.
The number of mortgages for home buyers which were approved, but not yet lent, was up 57% on a year earlier.
The BBA said the revival in activity had been helped particularly by the government's Help to Buy scheme.
"Mortgage borrowing continues to rise compared to a year earlier as mortgage assistance schemes help first-time buyers and housing chains more generally," said the BBA statistics director, David Dooks.
"Approvals for new purchases have climbed quite significantly and are now at their highest point since September 2007.
"Credit card spending is also on the rise, showing that consumer confidence in the economy continues to improve," he added.
House building firm Persimmon says its own sales are on track for a big rise this year, with forward sales currently at more than £1.4bn compared with £1bn a year earlier.
Its comments came as it reported a 55% rise in pre-tax profits for 2013 to £337m. Sales rose by 16% to 11,528, with sales in the second half of the year up by 30%.
It pointed to Help to Buy and greater mortgage lending as two of the reasons for the strong upturn last year.
Pleasing progress
With the wider economy reviving along with the property market, it is widely expected that the Bank of England will raise interest rates gently by the end of next year, with an inevitable knock-on effect on mortgage rates.
The Financial Conduct Authority (FCA), one of the successor bodies to the Financial Services Authority, has told lenders to identify those borrowers who would be most at risk of falling behind with their mortgage repayments, and to devise plans to help them.
A recent review by the regulator found that lenders had improved the way they treated borrowers in arrears, but Clive Adamson of the FCA said they still needed to do more.
"Since we last looked at arrears management we have been pleased by the progress that firms have made," Mr Adamson said.
"We want firms to take further action to strengthen their arrears management practices and invest in their systems and people to make sure that they get this right."
Specifically, the regulator wants "front line" staff to have the power to make better decisions and wants lenders to be more flexible in dealing with customers in arrears.
Mortgage warning
Concern about the effect of future rate rises has been highlighted by research from Barclays bank.
It suggests that the poorest families with mortgages may find even a modest rise in interest rates difficult to cope with.
That is because the poorest 20% of households with a mortgage already spend more than half their monthly income on repaying their home loans.
And single-parent families with mortgages spend 37% of their incomes on repaying mortgages.
The bank asked the Centre for Economic and Business Research to calculate the effect of a rise in the bank rate from its current level of 0.5% to 1.25% by the end of next year.
The conclusion was that all UK mortgage holders together would see their gross mortgage repayments rise by just 3%, from £69.2bn to £71.4bn a year - an average increase of £252 per family per year.