Ladbrokes profit hurt by cost of upgrading online offer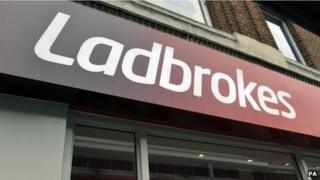 Bookmaker Ladbrokes has reported a sharp fall in profits, hit by costs related to an upgrade of its online offering.
Pre-tax profits for 2013 were £67.6m, down 66% on 2012, dragged down by £51.6m in exceptional costs driven largely by a software upgrade.
Chief executive Richard Glynn admitted the results were "disappointing", but insisted it had made "real operational progress".
It will shut 40 to 50 shops this year.
Ladbrokes formed a tie-up with software developer Playtech last year and is now switching its gaming products to a new system.
It is aiming to complete the upgrade by the middle of this year to take advantage of interest in the football World Cup in Brazil.
Ladbrokes said its profits had also been hit by a greater than expected slowdown in gaming machine revenues, as well as a change to the way the machine profits were taxed.
It plans to replace 9,000 of its machines with more sophisticated models over the first half of this year.
The move comes amid growing calls for the use of fixed-odds betting terminals, dubbed by critics the "crack cocaine of gambling", to be banned or limited.
Ladbrokes said it had established a boardroom committee to focus on the topic of problem gambling, and that from next year it would link the pay of top executives to its efforts to ensure the responsible use of gaming machines.
Mr Glynn said Ladbrokes took the issue of responsible gambling "very seriously".
He added: "Problem gamblers, contrary to popular myth, are not good for business."
Last September, the bookmaker issued its fourth profit warning in just over a year, after it admitted that the move over to technology provided by Playtech had caused greater disruption than expected.