Pensions: Ministers in Lords defeat over single state pension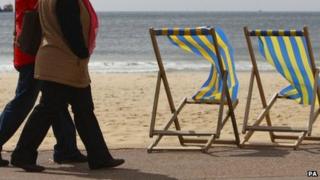 The government has suffered a defeat in the Lords over its proposed reform of the state pension system.
Peers backed, by 215 to 210, a move aimed at boosting the pension entitlement of thousands of workers with two or more low-paid jobs.
The amendment to the Pensions Bill would allow workers to combine their earnings to build up their contribution record to qualify for a state pension.
Ministers want to introduce a single-component flat-rate pension from 2016.
Instead of the current basic pension of £107 a week, plus various means-tested benefits, the new pension will be set at a flat rate of £144 a week, at current prices.
Legislation which would bring this into force has been approved in principle by MPs and is now being considered by peers.
'Flexible staff'
Calling on the government to reconsider how low-paid workers would be affected, Labour peer Baroness Hollis of Heigham warned that many in part-time work and zero-hours contracts would not be building up enough contributions through the National Insurance system for a full state pension.
"Why should they lose their state pension because we want services, and employers want flexible staff around the clock?" she asked. "They have difficult working lives. Let us not blight their pensions as well."
But work and pensions minister Lord Freud said the reforms were specifically designed to make the state pension fit for all workers in today's more flexible labour market.
He said there was no strong evidence of a problem and challenged claims that 250,000 people could be affected, insisting the figure was nearer to 50,000.
"There is no evidence that being on this type of contract (zero hours) presents barriers to entering the National Insurance system because of low pay," he said.
Ministers will have to decide whether to try to reverse the defeat when the Bill returns to the Commons.