Rebuilding broken High Street dreams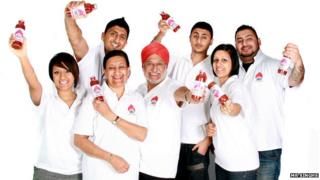 For most small businesses, appearing on a reality TV show is the stuff of dreams - especially if it leads to a contract with a major supermarket.
That's what the Sahota family thought in 2010 when their chilli sauce was picked up by Asda in front of millions of TV viewers on the BBC programme High Street Dreams.
The family shrieked with delight, and the tears flowed.
"We thought we had made it,' recalls Kuldip Singh Sahota. "But in reality getting the order was the easiest part," he adds.
In fact, within a year the company, Mr Singh's Sauce, had nearly gone under and is only now back on the road to success.
Made in the kitchen
The story starts in the mid-1980s, with a recipe for a chilli sauce perfected by Hardev Singh Sahota, made in the kitchen of the family's east London home.
The sauce was so popular with friends and relatives that Hardev began to sell small quantities locally.
The problem was that both manufacturing and sales were hard work, and the business never really got off the ground.
In 2008 Hardev's eldest son, Kuldip, decided it was make-or-break time. Without telling anyone, he paid £1,000 on his credit card to buy a stand at a BBC Good Food show in London.
He then told his family, revealing they would need to produce and sell 1,000 bottles to make their money back.
It was a tough challenge. The family would need to source bottles, print packaging and find enough time alongside their day jobs to make enough sauce. And they had just over a week to do it all.
"Everyone got involved and started to make the sauce," Kuldip says. "My dad didn't know how to make it on a bigger scale, so we figured it out over nine days - we were selling boiling hot bottles on the first day of the show."
The gamble paid off. The sauce sold out before the show ended.
Four food fairs later, all with the same result, the family started to sense a serious business opportunity.
High Street Dreams
By 2010, the Sahotas' burgeoning business had caught the attention of producers working on a new BBC show called High Street Dreams. It offered small businesses the chance to work with a successful entrepreneur on their product, with a view to pitching to a real supermarket buyer.
The Sahotas not only won the chance to appear, but also persuaded perfume mogul Jo Malone to let them pitch their rebranded sauce to Asda.
"We stayed up for three days preparing for that pitch," Kuldip recalls.
Millions of TV viewers watched as the Asda buyer offered the Sahotas the chance to distribute their product through its stores.
"We are going to start small, and then the world is your oyster, in terms of how quickly and how much you can grow," the buyer told the Sahotas.
The family was thrilled. The problem, though, was that they had given no thought as to how they might fulfil the order.
Dream goes sour
For a while they worked around the clock at their home, in the kitchen and later in the shed, but quickly realised they could never produce enough.
And even when they belatedly decided to outsource manufacturing, there were more problems.
"We created a product we loved, and we wanted to maintain the quality," Kuldip says.
"But to find someone who wanted to match that enthusiasm and produce a product we were happy with was nigh on impossible. They wanted to add in all these bits and pieces to stabilise it and make it easier to produce."
Within nine months the Asda contract had fizzled out.
Things then got worse. At one point the company invested heavily in 10,000 bottles from China that were of such poor quality they had to be thrown away.
Throughout most of 2011 and 2012 the family struggled to keep the dream alive. Kuldip had maxed out his credit cards to keep the business going, and was tens of thousands of pounds in debt.
"I spent two Christmas Eves in a row with my head in my hands, crying, because I ran out of money, or wasn't selling enough," he remembers.
Angels appear
The Sahotas' luck turned again in late 2012.
Chastened by their earlier experience, the family started to talk to outside investors, and finally found a manufacturer in Cambridge they trusted.
The sauce also started to attract favourable attention from influential food writers.
In March 2013 Kuldip raised a sum in the "low six figures" from three angel investors, money that allowed Hardev, Kuldip and his brother Sukhi to go full-time.
Today Mr Singh's sauces are stocked in Harvey Nichols, Selfridges, and hundreds of independent retailers across the country.
They are even reappearing on supermarket shelves, this time in Tesco.
Looking back, Kuldip describes his family's short TV career as a "double-edged sword".
"It was a fantastic opportunity for us, and it taught us about why we were doing what we were doing," he says.