Volkswagen shares hit by profit outlook and Scania plan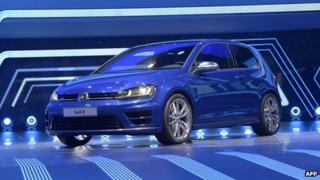 Volkswagen shares have dropped over 7% in early trading after it toned down its 2014 profit outlook late on Friday.
The German carmaker said its 2014 operating margin would be between 5.5% and 6.5%, compared with 5.9% last year.
At the same time, it said it wanted to take full control of Swedish truck maker Scania.
Volkswagen, which already owns 62.6% of Scania, has offered shareholders 6.7bn euros (£5.5bn) for the remainder.
It said taking full control of the division would allow it to save money and improve the business.
Volkswagen chair Martin Winterkorn said the offer was a "compelling price".
"This offer reflects the long-term strategic potential of fully integrating Scania within the Volkswagen Group," he added.
Volkswagen said the details of the offer would be made public on 14 March, while shareholders would have until 24 April to accept the deal.
Analysts at UBS said Friday evening's announcement had reinforced its "concerns about muted earnings growth", and it advised investors to sell the shares.
Separately, analysts at Barclays criticised the deal, saying Volkswagen's management was "focused on being big at the expense of shareholder returns".