George Osborne advises 'thinking big' on HS2 terminus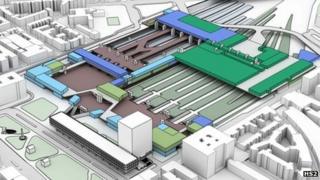 Chancellor George Osborne has advised the UK to go for a "really big" re-development of the HS2 rail terminus in London.
He told London's Evening Standard newspaper: "I'm thinking that maybe we should go for a really big re-development of Euston."
Existing HS2 plans are being re-considered by HS2's new boss, David Higgins, the government has said.
Mr Osborne made the comments during a trip to China.
He was visiting a high-speed rail terminal at Kowloon, Hong Kong.
'Fantastic opportunity'
The government plans a new high-speed rail route, from London to Birmingham and to Manchester and Leeds, known as HS2.
Construction on the London-West Midlands phase is expected to begin around 2017 and open in 2026. The onward legs to Manchester and Leeds could start being built in the middle of the next decade, with the line open by 2032-33.
Plans to demolish and rebuild Euston for HS2 were dropped in April and replaced with a scaled-back plan that involved developing the existing station.
At the time, BBC London's Tom Edwards said reports from a public meeting suggested engineers had been £500m out on their forecasts to rebuild Euston and so the plans had to be scaled back.
A spokesperson for the Department for Transport said of Mr Osborne's comments: "The chancellor is absolutely right to point out the fantastic opportunity HS2 provides to regenerate Euston.
"Plans are currently being considered by David Higgins as part of his broader review of the project and he will report back shortly."
Mr Osborne also said he regretted lying low during the early days of his austerity plan.
He said: "A couple of years ago when we were in the middle of the most difficult economic times, I felt a temptation to stay in the Treasury and not get out so much, and say 'I've got my plan, I'm going to stick with my plan and I don't necessarily need to talk about that'."
"I came to see that was the wrong thing to do. I'm very aware that the decisions I take have an effect on people's lives and I had to go out and talk to people about it, and explain to people what I was doing."
The chancellor said he now makes a conscious effort to "get out of the idea you can hunker down in the Treasury building".
He added: "Politicians can be at risk sometimes of withdrawing within themselves and saying, 'well, I don't care what other people think, I'm just going to do my thing'.
"You can't do that in a democratic country."