Groupon shares tumble 19% on forecast fall in profits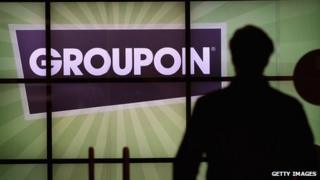 Shares in online voucher company Groupon tumbled 19% after the company said its quarterly profits will fall because of higher marketing costs.
Groupon had posted a better-than-expected rise in full-year earnings for last year, sending the shares higher.
But that rise was reversed after Groupon warned that profits for the current quarter would be hit by marketing and other costs.
Groupon has invested heavily in building a new online marketplace.
The company also said earnings would be hit by recent purchases of Ticket Monster, a Korean ecommerce firm and cut-price fashion site Ideeli.
Mobile business growing
Groupon also said it would be investing $25m in marketing and "other growth initiatives" to "drive adoption of the marketplace".
Eric Lefkofsky, chief executive of Groupon, said: "We are also excited to welcome Ticket Monster and Ideeli to the Groupon family.
"The acquisitions bring scale, relationships, and category expertise, making Groupon an even better place to start when you want to do or buy just about anything, anytime, anywhere."
Mr Lefkofsky said Groupon's mobile business had been doing well and had increased more than 10% in the three months to January 31.
Shares in the firm are nonetheless up 77% for the year as investors have cheered on Mr Lefkofsky's leadership.
He took over after founder Andrew Mason resigned in February 2013.