Frankfurt airport flights cancelled as staff strike over pay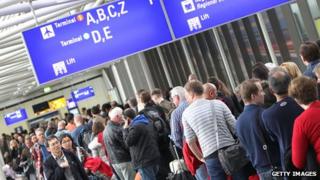 Flights have been cancelled at Frankfurt airport after airport staff went on strike over pay.
Travellers were left queuing for hours as nearly 50 flights were cancelled, including almost 40 Lufthansa flights.
Staff who usually check baggage, passengers and freight were asked to strike for equal pay to staff at other German airports by trade union Verdi.
Passengers booed the striking staff, who marched through the airport holding placards saying "we're worth it".
A spokesperson at airport operator Fraport said the situation posed a "challenge".
Short notice
The airport, Europe's third-largest, typically handles 150,000 passengers on a Friday.
Fraport's spokesperson said: "We tried to inform people but the strike was called at such short notice."
One of the staff on strike, Nsimba Gore, a security assistant, told the Reuters news agency: "We get 11.70 euros (£9.62) an hour once our trial period is over.
"People in Stuttgart get 14 euros an hour but we are the ones working at Germany's largest airport and the work is getting more stressful."
More than 90% of the airport's security staff joined in the strike, said Verdi, but added it would allow 110 staff to go back to work to help ease the chaos.