G20 summit to focus on emerging market turmoil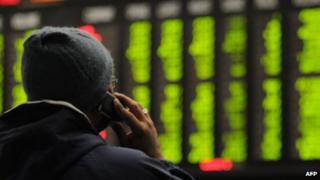 Stock market and currency turbulence in emerging markets like Brazil and Indonesia are expected to feature at this weekend's G20 finance ministers' meeting in Sydney.
The official theme of the meeting is restoring global growth.
But the main issue for participants, which also include Argentina, could be the dramatic revaluation of their currencies and share markets.
Investors are returning to the US as it winds down its ultra-easy money stance.
Falls
In December, the US Federal Reserve said it would start cutting back on the amount of bonds it buys in each month as the economy strengthens.
It has been buying bonds to try to keep cheap money flowing around the economy.
That had the effect of driving funds offshore to emerging markets where higher growth and interest rates promised better returns.
The withdrawal of this money has prompted sharp falls in currencies, such as India's rupee and Argentina's peso.
The International Monetary Fund's (IMF) managing director, Christine Lagarde, and the UK's chancellor, George Osborne, both said emerging economies should not blame the US for their market turbulence, although Ms Lagarde also said that the US should be "mindful" of the effect of its actions on other countries.
Mr Osborne said emerging market leaders should stop blaming developed countries for their own problems.
The G20 represents about 85% of the world's economy.
It consists of the US, Argentina, Australia, Brazil, the UK, Canada, China, France, Germany, India, Indonesia, Italy, Japan, Mexico, South Korea, Russia, Saudi Arabia, South Africa, Turkey, and the European Union.
The meeting, which includes central bankers, comes ahead of the main annual G20 summit which will take place in November in Brisbane.