UK government finances show £4.7bn surplus in January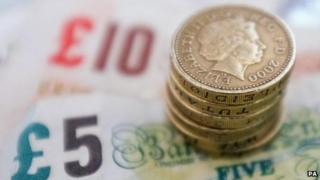 Government finances for January showed a surplus of £4.7bn, the Office for National Statistics has said.
That was less than the £6bn surplus recorded a year ago.
For the financial year-to-date, government borrowing was £90.7bn, which was £4bn lower than at the same point a year earlier.
January usually records a surplus due to high tax receipts, but in most other months the government borrows more money than it receives.
The total pile of government debt now stands at £1.24tn, equivalent to 74.6% of the UK's total economic output.
The ONS figures are initial estimates and are subject to revision. They exclude the effect of bank bailouts.
The £1.3bn fall in January's surplus when comparing with a year earlier was down to higher government spending. Tax receipts from VAT and stamp duty were up slightly, but this was offset by a fall in receipts from income and corporation tax.
According to the Office for Budget Responsibility (OBR), the difference "mainly reflects the fact that central government expenditure was £0.7bn higher... Receipts were little changed from last year".
Predictions 'achievable'
The borrowing figure of £90.7bn for the financial year so far excludes the transfer of assets to the Treasury from both the Royal Mail pension plan and the Bank of England Asset Purchase Facility Fund.
The OBR has forecast government borrowing to be £111.2bn for the current financial year.
"Official predictions for the annual deficit still look achievable, but nothing better," said James Knightley, UK economist at ING.
The OBR expects government borrowing to start falling next year, and continue to do so for the next five years.
A spokesperson for the Treasury said the finance figures showed that "the government's long-term economic plan is working.
"The deficit has fallen by a third, but as today's figures show, the job is not done and the biggest risk to the recovery would be abandoning the plan that's boosting economic security for Britain's hardworking people."
But Chris Leslie, shadow chief secretary to the Treasury, said the figures "confirm [Chancellor] George Osborne is set to break his promise to balance the books by next year.
"This is the cost of the three damaging years of flatlining and falling living standards we have seen since the election."
"Borrowing is now forecast to be nearly £200bn more than planned under this government simply to pay for the costs of their economic failure."