Air France-KLM back to operating profit in 2013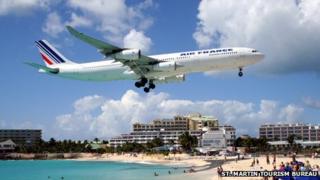 Franco-Dutch airline group Air France-KLM reported a return to profit in 2013, after cutting costs and jobs.
The firm made a 130m-euro (£110m) operating profit in 2013, up from an operating loss of 336m euros in 2012.
But because of a tax-related write-down, net losses increased to 1.83bn euros from 1.22bn euros in 2012.
Low-cost competitors, newcomers in the Middle East and Asia and weak economic conditions in several of its markets all added to the group's problems.
Plans paid off?
The Air France group is the second-largest airline in Europe, after Lufthansa in Germany.
Air France-KLM's net debt fell to 5.35bn euros last year, from 5.97bn euros in 2012.
But revenues rose 0.4% to 25.52bn euros, from 25.42bn euros the year before.
Chief executive Alexandre du Janiac told his board of directors the results marked an "important stage" in the group's turnaround.
He said: "We are clearly benefiting from the successful implementation of new working conditions and of the industrial plans adopted in all our businesses.
"As a result, we returned to a positive operating result, despite the persistently challenging environment, generated robust free cash flow and reduced debt beyond initial targets."