BAE Systems shares down 10% on lower earnings forecast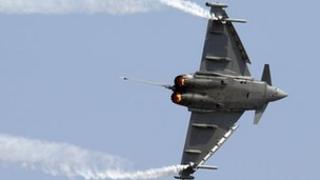 Shares in BAE Systems have dropped 10% after the defence group announced a big fall in profits in 2013 and said earnings would decline this year.
Pre-tax profits for the year fell by two-thirds to £442m, down from £1.2bn in the previous year, reflecting one-off impairment costs of £865m.
The group blamed "challenging market conditions" and cuts in the US defence budget for the slump in profits.
It forecast earnings per share would be 5% to 10% lower this year than in 2013.
The impairment charge reflected not only reduced defence spending by the US government, but also increased financing costs.
Sales in 2013 were up 2% at £18.2bn.
"Overall, the group delivered a solid performance in 2013, against the background of reduced government spending," said chief executive Ian King.
BAE said the US government was targeting savings of £450bn from defence budgets over a 10-year period.
"As certain areas of spending were protected from these reductions, such as military personnel accounts, the budgets funding much of the US defence industrial base are likely to be disproportionately impacted," it said.
In the UK, the company said its business was "in good shape and the outlook remains stable", and was benefitting from a number of large long-term contracts.
But investors focused on the US cuts and, in particular, the projected earnings fall this year.
"Awful headline figures from BAE Systems," said Jordan Hiscott at Gekko Global Markets.
"As western governments withdraw their military assets and needs from deployments in Iraq and Afghanistan, defence cuts could become more prevalent in the sector."
On Wednesday, BAE announced an agreement with Saudi Arabia over the rising cost of a long-running Eurofighter Typhoon jet deal.
Saudi ordered 72 Eurofighters in 2007 for £4.5bn, but the contract faced obstacles over escalating costs. BAE did not disclose the details of the deal.