Greece posts first current account surplus since 1948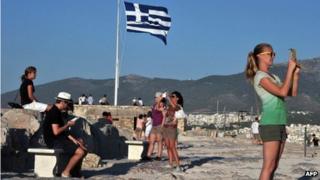 Record spending by tourists has helped Greece post its first current account surplus since official data began.
Figures from the Bank of Greece showed the difference between the money going into and coming out of the country was 1.24bn euros (£1bn) last year.
It was partly driven by a 15% increase in tourism receipts, the country's biggest earner.
The surplus was the first for the recession-hit economy since records began in 1948.
It is equivalent to about 0.7% of total Greek economic output, and is a marked improvement on 2012, when the current account registered a deficit of 4.6bn euros.
The Greek central bank said the change was largely due to a significant fall in imports - by about 4.5% - and a slight rise in exports, which helped reduce the size of the country's trade deficit to 2.4bn euros.
Falling wages have helped Greek firms' competitiveness, leading to a rise in exports of non-fuel goods by 2.1% to 14.2bn euros in 2013.
Tourism receipts also contributed strongly, rising to a record 12bn euros.
Economic recovery?
The current account was also helped by debt relief provided by Greece's lenders, which slashed interest payments by half to about 6bn euros in 2013.
Current account deficits have been a drag on the Greek economy for decades, with the gap having to be plugged by borrowing and investment from abroad.
Economists expect Greece to repeat a surplus this year, but say the country has not necessarily turned the corner.
"Sustaining the surplus in the longer term will depend on whether the economy maintains its competitiveness and on its capacity to increase import substitution with domestic production," said Eurobank economist Platon Monokroussos.
"Wage growth must stay in line with productivity gains."
Athens has said that Greece should emerge from recession in 2014, after six straight years of contraction. However, the country still faces huge economic challenges.
The jobless rate reached a record high of 28% in November, and tough austerity measures have shrunk the economy by nearly a quarter in four years.