Remote recording tech helps artists make sweet music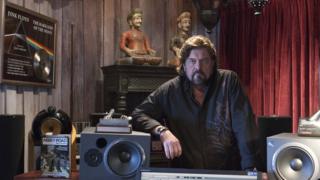 The latest digital audio recording technology has helped an unsigned London-based band hook up with one of the world's most famous producers in California - even though they were 5,500 miles apart.
And it is helping recording artists and session musicians around the world collaborate remotely, saving time and money.
Electric Litany weren't expecting any response when they sent their first album to one of their musical heroes, Alan Parsons, the engineer behind some of the most celebrated albums of the 20th Century, including the Beatles' Abbey Road and Pink Floyd's Dark Side of the Moon.
But the musician who fronts the Alan Parsons Project Skyped them to say he liked their ethereal, melancholic sound and wanted to help them.
"I said to myself, they could be the next Radiohead," he told the BBC.
"That was really fantastic," says Richard Simic, the band's drummer and co-founder. "The only problem was that Alan was in Santa Barbara and going over to his studio to record our second album would have cost us about $100,000 [£60,000]. That was money we just didn't have."
They approached a few record labels for funding without success and even tried raising the money on crowdfunding site Kickstarter, but only secured pledges worth $15,000.
Then technology came to the rescue.
'Live feedback'
"Alan suggested we record the album in the UK and he would help us using some kind of real-time remote recording software," says Simic.
While the band was setting up their equipment at Foel Studio in mid-Wales - a recording venue for bands as diverse as the Stranglers, Scritti Politti and Klaxons - Parsons was monitoring proceedings from Santa Barbara via tablet computer video link, advising on microphone positions, instrument choices and so on.
Using Source-Connect digital audio software, he was able to listen in to the band's multichannel recording session in high fidelity and suggest how they could improve the sound and the arrangements for their newly-released album, Enduring Days You Will Overcome.
"It was like he was in the studio with us," says Simic. "Getting live feedback was invaluable."
Rebekah Wilson, 38, a composer and programming expert who founded Source Elements, the company behind the collaboration software, told the BBC: "What is unique about our software is that we restore and replace any missing digital packets of data automatically, so there is no disruption to the timeline. This gives the sense of near real-time, live recording."
This week, Source Elements is rolling out a simple Chrome browser-based version of its software, enabling musicians and voice-over artists to record and share high-quality audio very simply. Monthly subscription costs will eventually be about $10, the company says.
Music in the clouds
Other remote recording providers are moving the whole process on to the cloud. For example, Ohm Studio stores your musical projects on its servers, allowing musicians from around the world to access the same project whenever they want and even simultaneously.
The system manages the workflow to prevent conflicts - one person trying to delete a track another person is still recording, for example - and changes are uploaded to the server and synchronised in real-time, so that each musician sees the latest version of the project.
The project originator can then outsource the final mix and production to an independent producer - all online, all remotely.
Alternatives include Digital Musician, a social network that also offers an online sequencer and multi-track recorder production facility.
Creative collaboration
While the idea of remote recording has been around for decades, it was traditionally done over dedicated ISDN - Integrated Services Digital Network - lines, with tracks being recorded individually and built up layer by layer. This was expensive and therefore restricted to professional audio recording studios.
And for many years musicians emailed each other - sometimes very large - music files recorded using digital audio workstation (DAW) software, such as Apple's Logic Pro, Steinberg's Cubase, Cakewalk Sonar, or Image-Line FL Studio.
But faster broadband internet and mobile network speeds, plus improved audio compression codecs, have made online collaborations faster, easier and cheaper, and brought professional-quality remote recording facilities within reach of small businesses and "prosumers".
Sam Inglis, features editor for specialist audio recording magazine Sound On Sound, says: "In the 70s, people used to fly 24-track tapes across the Atlantic, which was pretty expensive. Remote recording has opened up a whole new world of cheaper collaboration that could not have existed before."
Parsons, who acts as a brand ambassador for Source-Elements, agrees, saying: "I think this is the way of the future, especially as it can only get better. Far too much money is spent getting talent from one place to another."
Light speed
But digital data cannot speed across the globe faster than the speed of light, so there will always be a slight delay, or latency, in the process, explains Wilson. This makes simultaneous recording of a transatlantic duet, say, still technically impossible.
"It takes about 100 milliseconds for internet data to get from the UK to New York and back. Once you add encoding and software latency, the round-trip time rises to 200 milliseconds on a good connection," she says.
"That's just way too high for musicians to be able to play in sync together remotely."
So while technology is certainly removing distance as a barrier to creative collaboration "there's still no substitute for playing together in the same room," Inglis concludes.