Bank minutes show no rate division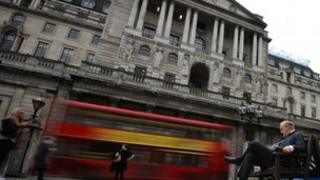 The body responsible for setting Bank of England policy voted unanimously to maintain interest rates at 0.5% this month, minutes of the meeting show.
The Bank's Monetary Policy Committee (MPC) also voted 9-0 to keep the £375bn quantitative easing (QE) programme unchanged.
Unemployment rates, one possible trigger for rate change, are not yet at the 7% threshold set by the bank.
Any future interest rate changes will be gradual, the policymakers said.
The rate that the Bank of England lends to other banks, currently at a historic low, has a knock-on effect on loans, mortgages, and returns paid to savers.
One of the factors that can be bring about interest rate change is if unemployment falls to 7%.
Unemployment estimates of 7.2% were released on Wednesday.
Slack in the labour market meant that interest rates would be likely to remain unchanged, the committee said.
"Despite the sharp fall in unemployment, the committee judged that there remained scope to absorb spare capacity further before raising Bank Rate," minutes from the meeting said.
The amount of money injected into the economy through QE would remain at £375bn to aid recovery, the committee added.
Inflation on target
Inflation was expected to remain at around the target rate of 2% in the coming months.
To maintain a steady recovery and keep inflation close to the target, future interest rate rises will be gradual, the committee said.
Pre-financial crisis interest rates of 5% or more will be unlikely, the policymakers added.
Recovery was projected to move to a firmer footing, with a gradual revival in productivity.
The committee foresaw a gentle pick-up in pay growth and households' real incomes.
The policymakers were not taking economic recovery for granted, market analysis firm IHS Global Insight said.
"The message repeatedly coming from the Bank of England is that while it is encouraged by the economy's recent strong performance, the Bank is not taking sustained recovery for granted and very much wants to see it become more balanced with business investment and exports increasingly kicking in," said IHS chief UK economist Howard Archer.
"Extended low interest rates will hopefully facilitate this process."
Higher interest rates could also undermine exports if the pound became too strong, Mr Archer added.