Sports Direct reports Christmas profits up 14.6%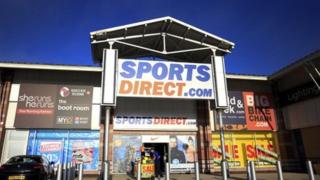 Sports Direct, the retailer run by Newcastle United owner Mike Ashley, has seen profits surge thanks to higher sales over Christmas.
The retailer, which has about 400 stores across the UK, reported a quarterly profit of £280.7m, an increase of 14.6%.
Sports Direct's share went up by more than 5% following the results.
Group sales for the 13 weeks to 26 January were buoyed by Sports Retail, increasing 11.2% to £655.4m.
The group's sales for fashion brands such as Republic, USC and Flannels were up 52.5% to £71.2m.
Sports Direct expects to reach its full-year underlying earnings target of £310m for 2013-14, before bonus share scheme deductions.
"Despite tougher comparisons during the period, Sports Retail continues to perform well," said chief executive Dave Forsey.
Investors welcomed the solid Sports Direct performance. The company's shares rose by 5.3% on the release of the results on Wednesday.