Poundland in £750m stock market float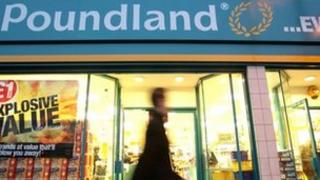 Discount chain Poundland plans a £750m flotation on the London Stock Exchange.
The 530-store group, which sell items for £1, is 76%-owned by Warburg Pincus and the remainder by management.
Ahead of the flotation in March, Poundland is strengthening its board with four new appointments, including former Carpetright and Sainsbury's executive Darren Shapland.
Shares will be offered to institutional investors, with up to 25% of the company's equity floated.
Poundland has almost 500 stores in the UK, and 31 stores in Ireland under the Dealz brand, selling about 1,000 branded items.
The company has done particularly well during the economic downturn, growing revenues from £641.5m in 2010-11 financial year to £880.5m in the 2012-13.
"The value retail sector has been through a period of profound change in scale, customer perception and financial performance," said Poundland chief executive Jim McCarthy.
Also joining the Poundland board as a non-executive director is Kraft Foods' European president Trevor Bond.
Tea Colaianni, human resources director of theme park group Merlin Entertainments, and Grant Hearn, former chief executive of Travelodge, are also appointed non-executives.
There has been speculation for several months that Poundland might consider a flotation, on the back of continuing strong results.
The economic downturn led to discount retailers outperforming the market in 2013 as consumers sought to make savings.
Poundland's Dealz brand, which sells the majority of products at 1.49 euros (£1.20), launched in Ireland in September 2011.
Former Sainsbury's managing director Jim McCarthy, who has more than 40 years' experience in retail, joined Poundland as chief executive in 2006.
About 155 Poundland employees own 24% of the company.