Alcoa to close Australian smelter and mills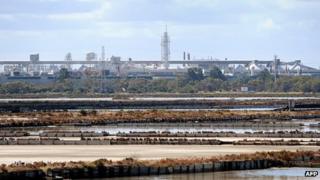 Aluminium giant Alcoa plans to close down a smelter and two mills in Australia by the end of the year, affecting nearly 1,000 jobs.
The US-based company said the three facilities were "no longer competitive" and "not financially viable" to keep.
The move deals a further blow to Australia's manufacturing industry, which has been struggling with high labour costs and a strong currency.
In a statement, Alcoa called the closures "hard decisions to make".
"Despite the hard work of the local teams, these assets are no longer competitive and are not financially sustainable today or into the future," Alcoa's chief executive officer Klaus Kleinfeld said.
The company said restructuring charges from the closures would cost up to $270m (£161m) and reduce its global smelting capacity by by 190,000 metric tons.
The smelter, which is located at Geelong in the state of Victoria, was first put under review in 2012 "due to challenging market conditions" and will be closed in August.
The two rolling mills will be shut by the end of 2014 after being "impacted by excess capacity" in the Australian and Asian markets for materials used to make cans.
However, Alcoa will continue to operate a smelter in Portland, Victoria and also owns bauxite mining and alumina refining operations in Australia.
The cost-cutting comes amid a tough time for Australia's manufacturing industry, which has been shedding jobs as the country's mining boom end.
Lower commodity prices have led companies to rein in spending and mining projects, causing a rise in Australia's unemployment rate.
Adding to the sector's troubles have been high labour costs and the strength of the Australian dollar, which recently led all of its major car makers to pull out of the country.
Earlier this month, Toyota said it would stop producing cars in Australia by 2017, following similar announcements by Ford and General Motors last year.