Kinky Knickers firm back into business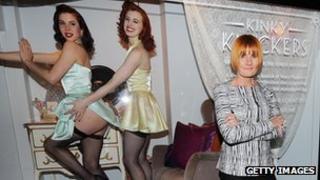 The underwear maker championed by retail expert Mary Portas, Headen and Quarmby, is out of administration months after it was forced to close.
The buyer, Headen and Quarmby UK, is owned by a former MD, David Moor.
It says it intends to restart production as soon as possible.
The 79-year-old factory, in Middleton, Greater Manchester, is best known for its Kinky Knickers line, and was featured in the 2012 television programme, Mary's Bottom Line.
In it, she reopened the sewing room and launched her Kinky Knickers range.
The business produced a variety of clothing for a number of High Street and online retailers, including House of Fraser and Asos, but is best known for manufacturing Kinky Knickers, the brand founded by Mary Portas.
'Strong'
This manufacturing agreement has been inherited by the new company, and it is hoped it will help to kick-start the factory's production.
At the beginning of the year, Headen and Quarmby Limited found itself with bad debts, and the deterioration in its cash position forced the closure of that company.
The administrators said at the time that orders had fallen sharply, but they were hoping to sell it as a going concern.
David Moore, managing director of Headen & Quarmby (UK) Ltd said he was confident about the businesses prospects: "We have a strong underlying business and a full order book.
"We're determined to rebuild a great British success story, thanks to the support of our staff, retailers, suppliers and Mary Portas."
Mary Portas said: "I was so sorry to hear about the issues H&Q had in January. I'm thrilled they've had the confidence and the vision to re-build."