Energy firm boss challenges rivals over price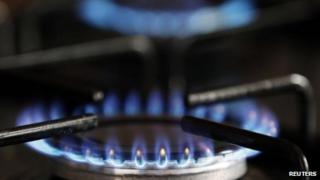 The boss of a small energy company has challenged the industry's big players after announcing a 2.5% price cut for consumers.
Ovo Energy said it had reduced prices four times since September.
Its chief executive, Stephen Fitzpatrick, said the mild winter had allowed it to cut prices, adding that many customers were paying more than they had to elsewhere.
Many small suppliers do not have to pay green levies.
But Mr Fitzpatrick denied that this was the key to his company's prices, claiming that the major energy firms had used them as an "excuse" for high bills.
"We are about 18% cheaper than the average 'big six' standard tariffs and green levies comprise about 3%," he told the BBC. "And actually this year we are going to have to pay them anyway.
"We do a lot of small things better and it all adds up. We are smarter about the way we buy energy."
OFT investigation
Another smaller supplier - First Utility - said it was increasing prices on its iSave Everyday tariff by 3.5%.
However, it said that its price rise would not come into effect until 1 April.
Energy companies have been under pressure to reduce prices owing to the falling wholesale cost of energy.
Analysts have said that consumers should expect as much as £30 a year off their bill.
But energy companies responded, saying that they bought their energy over a long period of time, and so would not react to day-to-day fluctuations.
Energy Secretary Ed Davey has also called on the competition authorities to investigate the profit margins of the major suppliers, although a review into the market is already being carried out by the Office of Fair Trading.