Avon may spend up to $132m to settle China bribery probe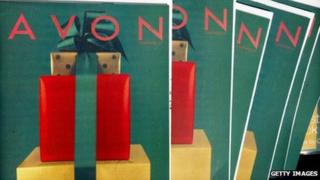 US cosmetics group Avon Products may spend up to $132m (£79m) to resolve allegations it may have bribed officials in China and other countries.
The firm has been under investigation for years over possible violations of the US Foreign Corrupt Practices Act.
However, no deal has been reached with the US government and Avon said it had provisionally set aside the money in the event of a settlement.
Shares of the loss-making firm fell by more than 3% in US trade on Thursday.
The world's largest direct seller of beauty products has also been struggling with slowing growth in many of its major markets.
The company reported a net loss of $69.1m in the three months to December, while revenue fell by 10% to $2.67bn.
Avon chief executive officer Sheri McCoy said the company was "making headway" towards returning to profit.
"Looking back at 2013, we made progress addressing tough legacy issues, identifying and beginning to resolve operational challenges, and rebuilding our management team," she said in a statement.
"While much work remains to be done, we continue to make progress toward building a better, simpler and more stable business."
Ms McCoy took the helm of the company in 2012 and has undertaken an aggressive cost-cutting plan.
Last December, Avon announced plans to cut 650 jobs. It is also exiting unprofitable markets, including Vietnam and South Korea.
However, Avon still has had to contend with rising competition, a lack of sales staff and problems with its technology systems.
China probe
Avon is one of the world's largest beauty companies and sells most of its products through direct selling by self-employed representatives who visit customers in their homes.
Soon after China lifted its ban on direct selling in 2006, Avon obtained a license to do business there.
But in mid-2008, Avon launched an internal investigation over allegations of improper payments in China.
Under the US Foreign Corrupt Practices Act, companies are banned from paying money or giving anything of value to foreign officials to obtain or retain business.
The US government inquiry - led by the US Securities and Exchange Commission and Department of Justice - began in 2011.
According to a company filing, Avon had offered to settle the matter last year for $12m, which was rejected by US regulators.
Avon said "there can be no assurance" it will be able to reach a settlement with the government, and if successful "what the timing or terms of such settlements will be".
The company has racked up more than $300m in legal and other related costs due to the probe.