Can the Germans save American labour?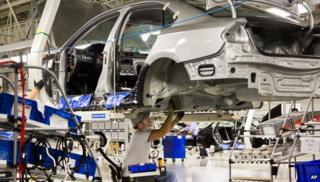 Workers at a Volkswagen car plant in Chattanooga, Tennessee are poised to make US labour history.
In a move that could reverse 70 years of Southern factory work, they're on the verge of unionising - a feat in a part of the US where collective bargaining has generally been shunned and low wages have long been a selling point to lure big firms like Nissan and Boeing to the region.
About 1,550 workers at the plant - which makes the mid-size Passat for Volkswagen - began voting on Wednesday in an election that concludes on Friday.
If a majority vote in favour of a proposal to join the United Auto Workers (UAW) union, it "would be a radical departure from the past approach in the South to economic development," says Vanderbilt University's professor Daniel Cornfield.
Moreover, it would be a particularly German approach to collective bargaining, with workers given more control over day-to-day management through "work councils".
But what many are hailing as a potential victory for organised labour is sending shivers throughout Republicans and the business community in Tennessee.
"Businesses are choosing to move to [non-union] states for obvious reasons and I think we can expect if the UAW wins this election that other states and other communities are going to try and take" business from Tennessee, says Maury Nicely, a representative of Southern Momentum, a coalition of anti-union workers at the Chattanooga plant.
First of its kind
Although the vote was scheduled just last week, the push for organisation started a few years after Volkswagen (VW) opened its only US facility in Chattanooga in 2010.
Chris Brown, 38, was one of the very first to apply for a job at the plant.
"I had always wanted a job working in auto manufacturing but there wasn't any facility down here," he says.
"I remember the day I read about [VW opening a plan] in the newspaper I thought this is amazing - I applied and VW saw fit to hire me."
But despite his enthusiasm for the job - he works on the assembly line applying the finishing touches to the vehicles - he thought it might be better if there was a structure in place for workers.
So Mr Brown and a fellow co-worker met with representatives from the UAW - and that's when they discovered that the other 61 VW plants around the globe have "work councils".
"A works council is elected by the entire workforce. It then has daily interactions with management around problem solving, production and personnel issues, labour standards," explains Cornell labour historian Lowell Turner.
Mandated by law in Germany and popular in other European countries, works councils have never before been tried in a US manufacturing facility.
"American companies don't even know anything about works councils, don't want to know anything about works councils, and are resistant to unions," explains Prof Turner.
Now, he and his fellow supporters have spearheaded the first attempt in 13 years to unionise a plant that is not run by one of the three big US carmakers - General Motors, Ford, and Chrysler.
"This model has never been here before - we're hoping this will open up a new era in the south," he says.
German roots, American expression
But VW, of course, is not a US firm.
And in a departure from other foreign car manufacturers who haven't taken kindly to organisation efforts, VW has remained "neutral" on the UAW's push.
In a tacit show of support, Volkswagen Chattanooga chief executive Frank Fischer said in a statement: "Our plant in Chattanooga has the opportunity to create a uniquely American Works Council, in which the company would be able to work co-operatively with our employees and ultimately their union representatives, if the employees decide they wish to be represented by a union."
All from Germany
But not everyone is looking to usher in this new era, particularly with its European associations.
"This all emanates from Germany," says Mr Nicely, who says the workers he represents think that the plant has been a success story without union help.
Others opposed include anti-union Republicans like Grover Norquist, who has spent millions opposing the campaign through an organisation called the Center for Worker Freedom, which has bought 13 billboards in Chattanooga.
Even Tennessee Senator Bob Corker, a Republican who played an instrumental role in securing VW's business by luring the firm with over $500m in incentives, has spoken out, saying it could hurt the local economy by scaring away business.
Sen Corker said on Wednesday that VW would decide to produce a new sports utility vehicle in a plant in Mexico if the union vote was successful, although VW later denied this would be the case.
A new model
The results of the election are set to be released later on Friday.
A failure in Chattanooga would almost certainly damage the UAW and could significantly curtail future organisation efforts, as a failed attempt to organise at a Nissan plant in Smryna, Tennessee, did in 2001.
But a victory - particularly one that has at its core a commitment to German-style labour relations - could have far reaching implications for workers across the US.
"American workers for the first time are getting the opportunity to vote for union representation that would also include a German-style works council," says Prof Turner.
"If it works then we have a new model to draw on that could serve as an inspiration for other companies and unions around the country who are looking for new model of labour relations."