India telecoms auction raises $10bn from mobile firms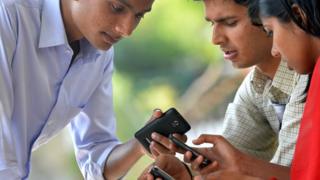 India's mobile phone firms have bid almost $10bn (£6bn) in a key auction for the country's second-generation (2G) telecoms licences.
The amount far exceeded the government's target of $1.8bn, and will be used to shrink its budget deficit.
The government will get at least $3bn initially as companies have to pay up to a third of the winning price now, with the rest by 2026.
The winners included Bharti Airtel, Vodafone and Reliance Industries.
The success of this auction is in marked contrast to earlier auctions in November 2012 and March 2013, which both flopped.
Then, most bidders stayed away, complaining that the minimum prices for bids were too high.
Eight companies had applied to bid in the current auction for the 900 MHz and 1800 MHz band airwaves after the government sharply cut the minimum reserve prices.
"The government is happy," Telecoms Minister Kapil Sibal said after the auction ended on Thursday. "We will see a smile on the face of the finance minister."
Finance Minister P. Chidambaram faces a challenge in meeting India's budget deficit target for the current financial year.
This is due to a shortfall in both tax collection and also income from the sale of stakes in government-owned companies.
Winning bids
Bids in the 900 MHz band totalled about 236bn rupees ($3.7bn; £2.2bn) while bids in the 1800 MHz band were about 376bn rupees.
Bharti Airtel and Vodafone bought airwaves in the 900 MHz band, worth about $3bn each, that was available in three key cities - Delhi, Mumbai and Calcutta.
For both firms, the stakes were relatively high, as they already use the 900 MHz band in these cities and would have seen their rights expire in November unless they were successful in this auction.
Other winning companies included Reliance Industries, with operating licences in more than a dozen service areas, Idea Cellular, Telenor and Aircel.