Rolls-Royce shares tumble as defence cuts hit profits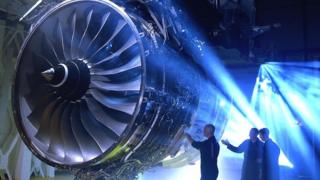 Shares in Rolls-Royce fell 13.6% after the aerospace and marine manufacturer warned profits at its defence-aerospace division would fall 15%-20%.
Cuts in European and US defence spending are to blame for the expected fall in revenues.
Rolls said growth for the whole group would "pause" in 2014 after 11 years of unbroken profit growth.
Most analysts had pencilled in 8% growth in 2014 profits.
Rolls-Royce saw almost £4bn wiped off its value on the stock exchange.
Shares in other European defence firms BAE Systems, Finmeccanica and Airbus Group fell by between 2% and 3%.
Chief Executive John Rishton said: "We've defied gravity for a couple of years compared to many other companies and now we're having the impact come together in one year."
Mr Rishton said: "This is a pause, not a change in direction, and growth will resume in 2015.
"Cash flow is expected to be broadly similar to 2013. Our record order book underpins our confidence in the long-term growth of our business."
Part of the problem was that profits had been unsustainably inflated by big export orders over the last two years - the Eurojet EJ200 engine to the Middle East and the Adour engine to India.
Mr Rishton said the group also faced possible cuts by the US on the size of its Lockheed Martin-built C-130 transport fleet. US and European governments have made big cuts in defence budgets.
However, demand for civil aircraft engines to fly Boeing and Airbus airliners remains strong. Rolls-Royce said it saw a 23% rise in underlying pre-tax profits at its civil aerospace unit. The group expects a "modest" increase in profits in 2013 in its marine and civil aviation divisions.
The group has restructured by cutting 11% of its "indirect headcount" in 2013, and has been moving production away from high-cost countries.
News of the worsening trading outlook came a day after UK fraud investigators arrested two men as part of inquiries into Rolls' activities in Asia.
The Serious Fraud Office said at the end of last year that it had opened a formal investigation into the engine maker about bribery and corruption.