Chinese PC maker Lenovo posts record profits and sales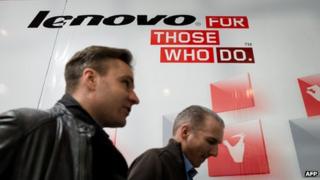 Lenovo, the world's largest PC maker, has posted record third-quarter profit on higher sales of laptops and mobile devices in emerging markets.
The Chinese firm said earnings rose 30% to $265m (£159m) from a year earlier, beating analysts' estimates of $247m.
Revenues jumped by 15% to a record $10.8bn, led by sales in China.
However, the firm warns its future finances will be negatively impacted by its recent purchase of IBM's low-end server business and Motorola Mobility.
Lenovo paid more than $5bn - or nearly half of the company's market value - to buy both businesses in January.
Investors have questioned the acquisitions, given both handset-maker Motorola Mobility and IBM's server business are currently loss-making.
On a conference call, Lenovo said it would take up to five quarters - or more than a year - to turn around the Motorola business, which it bought from Google for $2.9bn.
'Pillars of growth'
But the Chinese firm stressed that the acquisitions are all part of a longer-term strategy to move away from its reliance on PC sales and expand its presence in the server and smartphone sectors.
"We are confident we will maintain this momentum in our existing businesses," Lenovo chief executive Yang Yuanqing said in a statement.
"The Motorola and IBM server acquisitions that we just announced are a perfect fit with our PC Plus strategy."
"While our top priority now is full participation in the regulatory approvals process, I am confident that from day one after closing, these businesses will quickly begin contributing to our performance and develop into pillars for long-term, sustainable growth."
Lenovo said it shipped a record 32.6 million devices in the third quarter, or nearly five devices every second.
Shares of Lenovo traded more than 1% lower in Hong Kong following publication of the results on Thursday.