Cisco Systems shares fall on lower sales and profits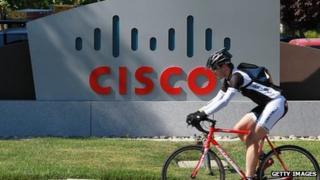 Shares in network equipment giant Cisco Systems fell by more than 4% in extended US trading after the company reported a drop in sales and profits.
Net income fell 55% to $1.4bn (£861m) in three months to January, largely due to a charge over faulty memory chips.
Revenue fell by about 8% to $11.2bn amid rising competition from rivals such as Chinese firm Huawei.
Cisco has also been struggling with weak demand for products such as internet routers from emerging markets.
The company, based in Silicon Valley and regarded as a bellwether for the technology industry, also forecasted revenues to fall up by 6% to 8% in the current quarter.
Cisco chairman and chief executive John Chambers said the company's financial health remained strong.
"I'm pleased with the progress we've made managing through the technology transitions of cloud, mobile, security and video, he said in a statement.
"The major market transitions are networking centric and as the Internet of Everything becomes more important to business, cities and countries, Cisco is uniquely positioned to help our customers solve their biggest business problems."
Orders from China, Brazil, India, Mexico and Russia have fallen in recent months, as the rise of cloud computing dents demand for hardware.
"If you look at hardware spending across the board, it's being negatively impacted not just by the negative-spending environment, but by the movement to the cloud," FBN Securities analyst Shebly Seyrafi said.
In an attempt to reduce costs, Cisco announced plans to cut 5% of its workforce last year.
However, the company raised its quarterly dividend on Wednesday by two cents to 19 cents a share.