Heineken predicts revenue growth in 2014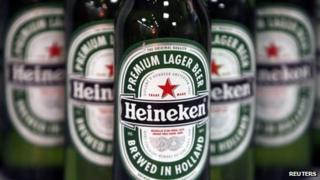 Brewing firm Heineken has said higher beer sales in emerging markets will boost revenue growth this year.
The company, which also brews Sol and makes Strongbow cider, says it expects higher sales in Africa, Asia and Latin America to help offset lower consumption in Europe.
Its comments came as it reported a 2% fall in underlying profits to 1.59bn euros ($2.2bn; £1.3bn) in 2013.
Revenues for the year were 21.26bn euros, up only slightly from 2012.
The figures were in line with forecasts after the brewer issued a profit warning in October last year.
The company, along with other brewers, has been affected by disappointing sales in Europe.
For 2014, Heineken said it expected a "gradual recovery" in the global economy to improve trading in several key markets.
It said it expected sales volume growth in Africa, the Middle East, the Asia-Pacific region and Latin America, but lower sales in Europe.
Underlying revenues are expected to increase, although Heineken said that volatility in the currencies of emerging markets was likely to have "an adverse impact on reported revenues".