Death of Australia's car industry prompts recession fears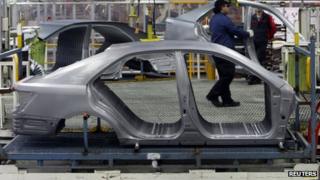 It's been a seismic year for Australia's once-flourishing car industry.
Last May, Ford said it would stop manufacturing in Australia, and in December, General Motors' Holden announced that it, too, would be closing down.
Now Toyota has decided to close its assembly lines by the end of 2017, prompting warnings that the slow death of car manufacturing in Australia could push parts of the country into recession.
Toyota said its move to end production in the southern state of Victoria was "heartbreaking", blaming a strong Australian dollar that has eroded international competitiveness and rising costs, which have eaten away at profits.
Some 2,500 Toyota workers will lose their jobs, but the economic ripples will spread much further, threatening large-scale unemployment in the automotive component supply sector and beyond.
Trade unions say the departure of the Japanese motoring giant could leave 50,000 Australians out of work and wipe AU$21bn (US$19bn; £11.5bn) from the national economy.
'Terribly dislocating'
Academics, though, fear that up to 200,000 jobs could ultimately be at risk, including casualties in "downstream" sectors such as transport, logistics and other business services. They will need to adapt or face decline.
"We are now really starting to experience some of the worst [economic] conditions that other nations such as Britain and parts of Europe have faced," says associate professor John Spoehr, executive director of the Australian Workplace, Innovation and Social Research Centre at the University of Adelaide.
He has warned that Toyota's decision to leave Australia could tip the traditional manufacturing states of Victoria and South Australia into recession.
"This is the death of the car making industry as we know it," he tells the BBC, adding that the impact on the workforce would be "terribly dislocating as a greater number of people experience long-term unemployment from which they find it difficult to recover".
Jobs challenge
Car manufacturing in Australia began in the late 1940s but has been slowing in recent years.
The collapse of the industry dominated the first parliamentary sitting day of the year on Tuesday. There were typically pugnacious exchanges as the federal opposition accused conservative Prime Minister Tony Abbott of not doing enough to try to convince Toyota not to walk away.
"The Australian people will mark you down for the death of the car industry, because we hold you responsible," said Bill Shorten, the opposition Labor leader. "This government is a job-killing government. They are not doing enough to fight for Australian jobs."
Labor has argued that blue collar workers in Australia could now face their most prolonged economic crisis since the Great Depression, which struck Australia in the 1930s.
However, Mr Abbott has argued that that after just five months in the job, he cannot be blamed for the sinking of an industry that has been in long-term decline.
"Our challenge as a parliament is not to preserve every single business indefinitely," he told MPs in Canberra. "Our challenge is to create the conditions under which people, if necessary, can transition from good jobs to even better jobs."
Hope?
The government says it is working on a comprehensive plan to help redundant car workers find other employment, while it has asked a national commission to look at ways to boost export opportunities for Australia's motor component manufacturers.
So what are the prospects for the estimated 50,000 people who face the dole queues when the car industry finally winds up in 2017, or perhaps sooner?
Academic studies suggest that about a third will never work again, but there is hope for thousands of others, according to Prof Roy Green, the dean of the Business School at the University of Technology, Sydney. 

"We should have recognised some time ago that the future of assembly manufacture in car making was limited and we should have prepared for this day. 

"We didn't, but we still have time to organise a successful transition for the workers involved, for the industry and indeed for the future of Australian manufacturing," he says.
Sentimentality v sense
The surge of foreign workers to Australia in recent years has also come under scrutiny following Toyota's decision to shut its production lines. Federal Labor MP Kelvin Thomson says the skilled migration programme should be cut to give opportunities to jobless locals.
"We already have 700,000 Australians out of work, we have rising unemployment, so it is absolutely crazy for us to continue to run migrant worker programmes at the record levels that we have been," he says.
But as Australia confronts another hefty blow to its manufacturing base, not everyone is unduly worried.
Ross Gittins, the Sydney Morning Herald's economics editor, believes a resilient and dynamic service sector will help to sustain the nation's prosperity as the carmakers prepare to pack up and leave.
"To regret the passing of an industry whose products few of us wanted is just sentimentality, making no economic sense," Gittins writes.
"A lot of the dire predictions we're hearing won't come to pass. However many jobs the vested interests are claiming will be lost, they're almost certainly exaggerating."