Airbus wins $8.3bn order from Amedeo at Singapore Airshow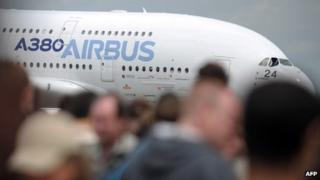 European planemaker Airbus has won an order for 20 A380 superjumbo jets worth $8.3bn (£5bn) at list prices from UK-based leasing company Amedeo.
The deal with Amedeo, which used to be called Doric Lease Corp, was finalised at the Singapore Airshow, which is Asia's biggest aerospace event.
The provisional purchase was first announced at the Paris Airshow in June.
The order marks a vote of confidence in the world's biggest passenger aircraft, which has seen sales slow recently.
'Best solution'
Mark Lapidus, chief executive of Amedeo, said one of the unique benefits of the A380 was its "on-board space and comfort combination" at the lowest per-seat unit cost.
"As world air traffic continues to double every 15 years and airport infrastructure and slots do not, the A380 is the best solution for airlines to capture that growth and build passenger loyalty," he said.
John Leahy, chief operating officer of Airbus, called the order "a clear recognition of the A380's long-term market appeal".
Airbus' A380 superjumbo entered service in 2007 and is able to carry more than 500 passengers.
When it was first unveiled, Airbus said it aimed to get 750 total orders for the double-decker plane.
However, the company had only received orders for 304 planes by the end of last year - including the purchase of 50 additional planes from Gulf carrier Emirates in November.
VietJetAir order
Airbus has been looking to Asia for increased sources of revenues as the region's rising wealth spurs demand for more travel.
The firm says it is expecting the region to be a key driver of its growth over the next two decades.
On Tuesday, Airbus received an order for 100 planes worth more than $9bn from low-cost Vietnam carrier VietJetAir.
The privately-owned low-cost airline had signed a preliminary agreement for the jets last year, and the deal will count as a new addition to Airbus' order book.
The majority of the planes ordered by VietJetAir are Airbus A320s, which the airline hopes will help to lower its operating costs.