Danone to double its stake in China dairy firm Mengniu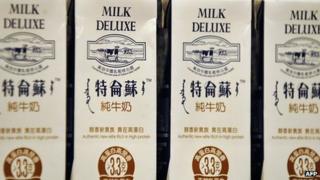 Danone plans to double its stake in China's largest milk producer amid growing demand in the country for foreign brands and dairy products.
The French food giant will pay 486m euros (£402m; $663m) to increase its shareholding in China Mengniu Dairy to 9.9% from 4%.
The purchase will be made through a joint venture with Mengniu's parent company Cofco and Denmark's Arla foods.
Shares of China Mengniu Dairy surged as much as 8% in Hong Kong on Wednesday.
Danone chief executive Franck Riboud called the deal a "winning combination" for the companies involved.
"This transaction is consistent with Danone's strategy to increase our interest in and join hands with Mengniu to capture the huge growth potential of the chilled dairy products market in China," he said in a statement.
Danone - which is the world's largest yoghurt-maker and produces the Dumex brand of infant formula - has been looking to increase its sales in China, the world's most populous country.
There has been increasing demand in China for foreign brands after a slew of food scandals, including the sale of tainted milk, alcohol and meat.
China's dairy industry is still trying to recover consumer trust after baby formula tainted with the chemical melamine killed six infants in 2008.
As a result, Chinese consumers have flocked to buy foreign brands, with many even travelling to cities such as Hong Kong to stockpile baby formula.
The deal with Danone still needs to be approved by Mengniu's shareholders and is expected to be finalised by the end of the year.