Fines for 710,000 missed tax returns, says HMRC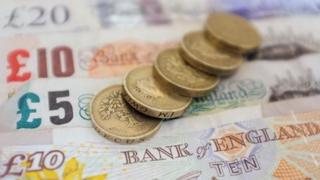 Hundreds of thousands of people will receive automatic fines at the end of the month for failing to submit their tax return before a deadline.
Self-assessment forms needed to be submitted online to HM Revenue and Customs (HMRC) by the end of January.
Although just over 10 million were completed, an estimated 710,000 returns were outstanding, HMRC said.
Penalties start at £100 but can build up to hundreds of pounds if forms are not submitted and tax unpaid.
Self-assessment forms need to be filled in primarily by the self-employed and people with more than one source of income.
Busiest time
Paper returns must have been completed and returned by 31 October, with the later deadline in force for online returns.
The busiest day for online returns was 31 January, when HMRC received 569,847. The busiest hour occurred between 4pm and 5pm on the same day, when 45,706 returns were received.­­
Some 21,027 people left it until the final hour of deadline day to submit their forms.
The number of returns that were outstanding fell compared with last year, when 730,000 missed the deadline, which itself was a drop from 850,000 the previous year.
Even so, thousands of people will still receive a penalty through an automated HMRC process.
Anyone who offers a reasonable excuse for failing to file on time - such as a home or workplace being flooded - could see the penalty waived or refunded.
For the rest, three months after the deadline, additional daily penalties of £10 a day apply, up to a maximum of £900 if no forms have been returned. After six months, there is a further penalty of 5% of the tax due or £300, whichever is greater. After 12 months, there is an additional 5% or £300 charge.
Child benefit
This year, thousands of parents completed a return for the first time because of changes to the child benefit system.
This affects families where one parent has a taxable income of more than £50,000. If they continued to receive child benefit after January 2013, then they must pay some of that back in a tax charge.
If one parent has a taxable income of more than £60,000, then they must pay it all back.
HMRC said that just under 100,000 high-earning parents who received child benefit had failed to register with the tax authority - the first stage of the self-assessment process - as they were supposed to.
They have been given some further time to do so, but could still be fined on a case-by-case basis, under what is known as a "failure to notify" penalty.