Young rule out plans for home ownership, Shelter says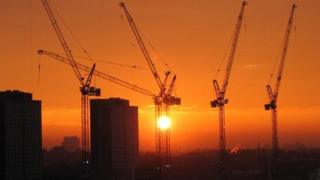 A housing charity has called for an increase in the construction of affordable homes, claiming that a "lost generation" has ruled out ownership.
Shelter said that average earners in England would need to double their annual salary to buy a property.
The charity concluded that 4.1 million adults would give up hope of ownership as a result.
The government said that house building was growing at the fastest rate for a decade.
However, this recovery has come after a period of extremely low construction levels seen during the financial crisis.
'Crisis point'
The study by Shelter compared average earnings and house prices between 1997 and 2012. It concluded that average earners would need a £29,000 pay rise to keep up with rising house prices.
There were no areas in England where wage and house price inflation had remained aligned over the 15-year period, it said.
In the London borough of Hackney, the average annual salary would need to increase by more than £100,000 to be in line with the rise in house prices.
Those on average wages in Watford and Brighton & Hove would need an extra £47,000 each year to keep up with local house price inflation, and in Manchester £34,000 extra would be required, the charity said.
"The reality is that successive governments have failed to build the affordable homes that this country needs, and as a result our housing shortage has reached crisis point," said Campbell Robb, Shelter chief executive.
One loan provider said that there were implications of an increasing number of adults continuing to live with their parents. In January, the Office for National Statistics (ONS) said more than 3.3 million adults between the ages of 20 and 34 were living with parents in 2013, 26% of that age group.
Sean Oldfield, chief executive officer at Castle Trust, said: "The failure of the young to break into the housing market has some very serious social implications."
This included some young people borrowing from family members.
"Older generations know this and want to help - many have the resources to do so."
Housing Minister Kris Hopkins said: "Anyone who works hard and wants to own their own home should have the help they need to get on the property ladder. That's why we've introduced Help to Buy, which offers a valuable alternative to the Bank of Mum and Dad and is so far helping 28,000 people buy with a fraction of the deposit they'd normally require.
"Shelter fail to recognise that our efforts to cut the record deficit we inherited have helped keep interest rates at a record low and home ownership at its most affordable since 2007."