Alibaba in bid to take over Chinese map firm AutoNavi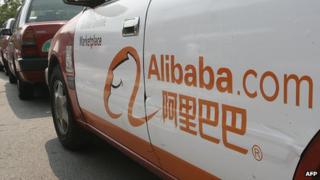 Alibaba has made an offer to take over Chinese map firm AutoNavi in an attempt to expand its e-commerce business ahead of an expected listing in the US.
Alibaba has offered to buy 72% of the company that it does not already own, in an all-cash deal that values AutoNavi at about $1.6bn (£976m).
If confirmed, the purchase would be one of the Chinese e-commerce giant's biggest acquisitions so far.
AutoNavi shares traded in the US jumped by 24% following the announcement.
Alibaba is widely expected to list its shares in the US later this year, where it could raise up to $60bn from investors.
However, the Chinese e-commerce giant has been facing increased competition from domestic rivals Tencent and Baidu, which have also been on the acquisition hunt.
As a result, it has been looking to expand its product offerings as an increasing number of Chinese consumers use mobile and tablet devices to do business.
Last April, Alibaba bought a stake in microblogging service Weibo, which is China's version of Twitter.
The Hangzhou-based company has also invested in luxury-sales site 1stdibs.com and US members-only retail website ShopRunner.
Mobile future
Alibaba's offer will see it pay a 27% premium to AutoNavi's closing share price of $16.54 on Friday in the US.
AutoNavi, whose rivals include Baidu Maps and Google Maps, said it would consider the offer.
The company is one of China's biggest free digital mapping companies and had about 77 million active users last year, mostly on mobile devices.
Its application also allows users to search for points of interest such as restaurants and cinemas.
Alibaba - which is partially owned by US internet giant Yahoo and Japanese telecom firm Softbank - runs several of China's biggest online commerce websites.
These include Taobao Marketplace, Alibaba.com and the Alipay payment platform, which combined are believed to account for 80% of China's e-commerce market.